Mad Monster

This is a homebrew game, run on Gameboy (DMG). A game by: László Rajcsányi - Wilds, 2023. Created with GB-Studio 2.0.0-beta5 by Chris Maltby!
Also available for download in .CIA format for the Nintendo 3DS virtual console!

It's time to test yourself in a race that spans the globe. With a huge 4-wheeled monster, you have to collect the diesel fuel necessary for its operation and cross the finish line. Except: You can't go backwards, you can't backtrack, you can't cross the line twice in a row, you can't take fuel twice, you have to complete within the time limit and you can't collide with opponents. Understandable? Well, we hope you succeed in your mission, good luck!
Thanks to Max Oakland for the music

Move: Arrow Keys UP/DOWN/LEFT/RIGHT
Menu: Select
Move: Arrow Keys UP/DOWN/LEFT/RIGHT
Menu: Shift
You can download the ROM file of the game from the WLS website!
Comments
Log in with itch.io to leave a comment.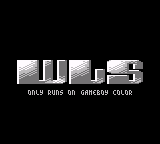 WHY IS ALL GB WLS GAMES NOT WORKING ON GB/SGB!!!
Hello. Did you try it on an original machine or an emulator? I tried it now on a BGB emulator and it's completely fine, but I couldn't test it on an original GB machine. In principle, it should be good, because no one else wrote it. :(

Let's say this screenshot is surprising me, because there is no such option to write this in the Mad Monster code. :)